BAITHAK - Project
Baithak Project encourages children and youth to perform individual talented young artists in classical dance, music. It will provide them performance space, a small remuneration ($50 - $300) to cover their travel expenses, audience, publicity and video coverage. Few times, we invite senior artists to share their knowledge with children and youth. (Baithak means sitting and enjoying art forms. This an ancient method to appreciate art forms) . This is a weekly performance series for children & youth - to encourage art education and creativity. This is an ongoing event. Started on September 10th 2017. We are planning to support 30 events in 2018. Anyone interested please send us your details to info@sooryadance.com or visit Natya.org.
We also encourage other dance schools, art organizations follow this suit to build up a healthy supportive artistic environment to bring awareness of your art form and become more creative.  
Baithak series 9
Mounica Gandi
Mounica Gandi started learning Indian classical dance at the age of 6 under Guru Prasanna Kasthuri. She has caught the attention of art connoiseurs as a one of the most dedicated, versatile, graceful artists from Soorya Dance School. He impressive performances in "Neeriksha' with Guru Seema Kasthuri got her attention of press. She has precise nritta and she expresses very effectively all abhinayas. This passion of dance has made her a darling of all patrons. In the past she performed festivals such as American Natya Festival, multiple Indian Dance Festivals, Sankranti Festivals in Chicago, and many other venues.  She attended gymnastics, cross country and tracks;  and learns Indian classical music as well. She is currently a freshman at Parkway South High School.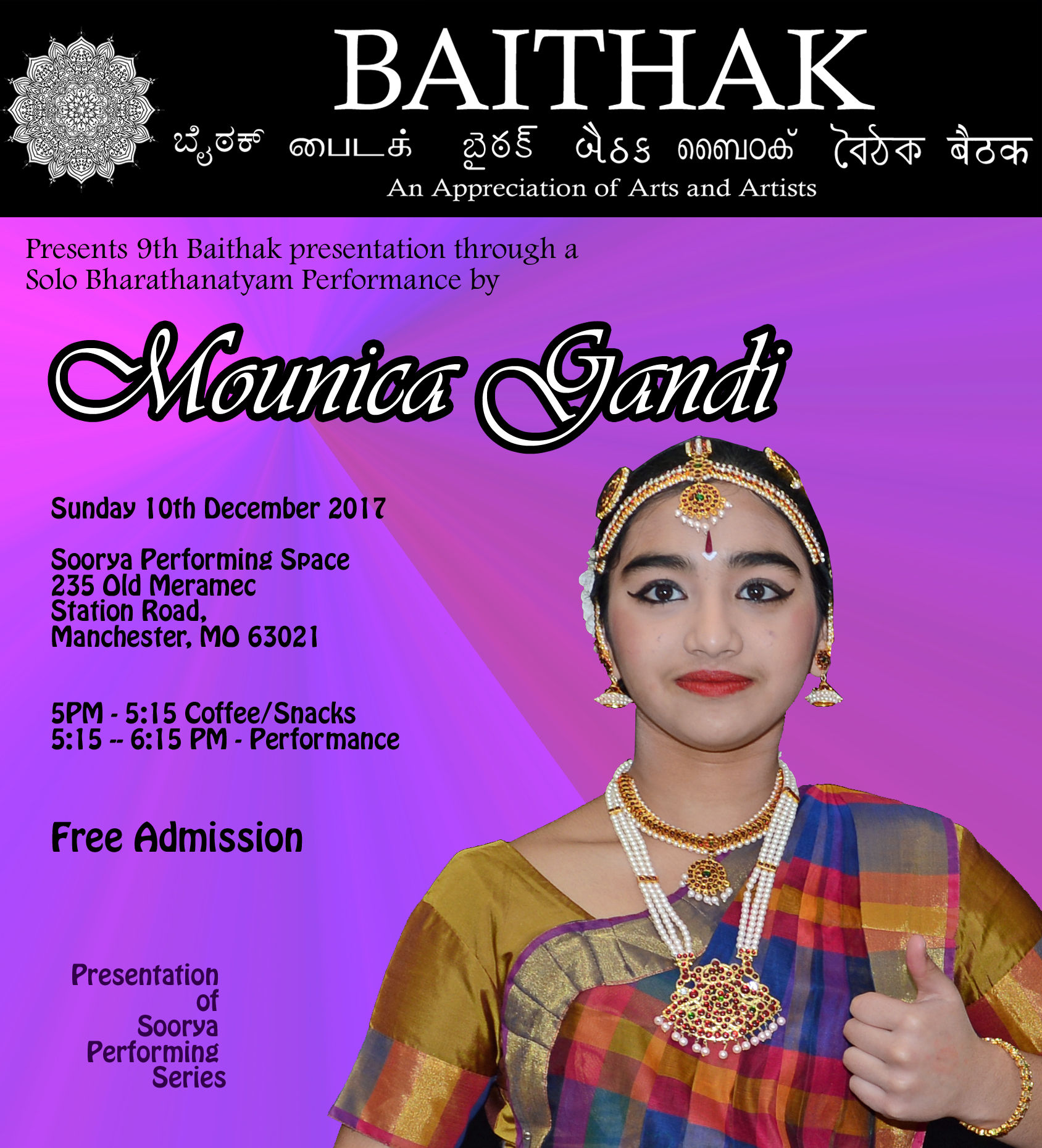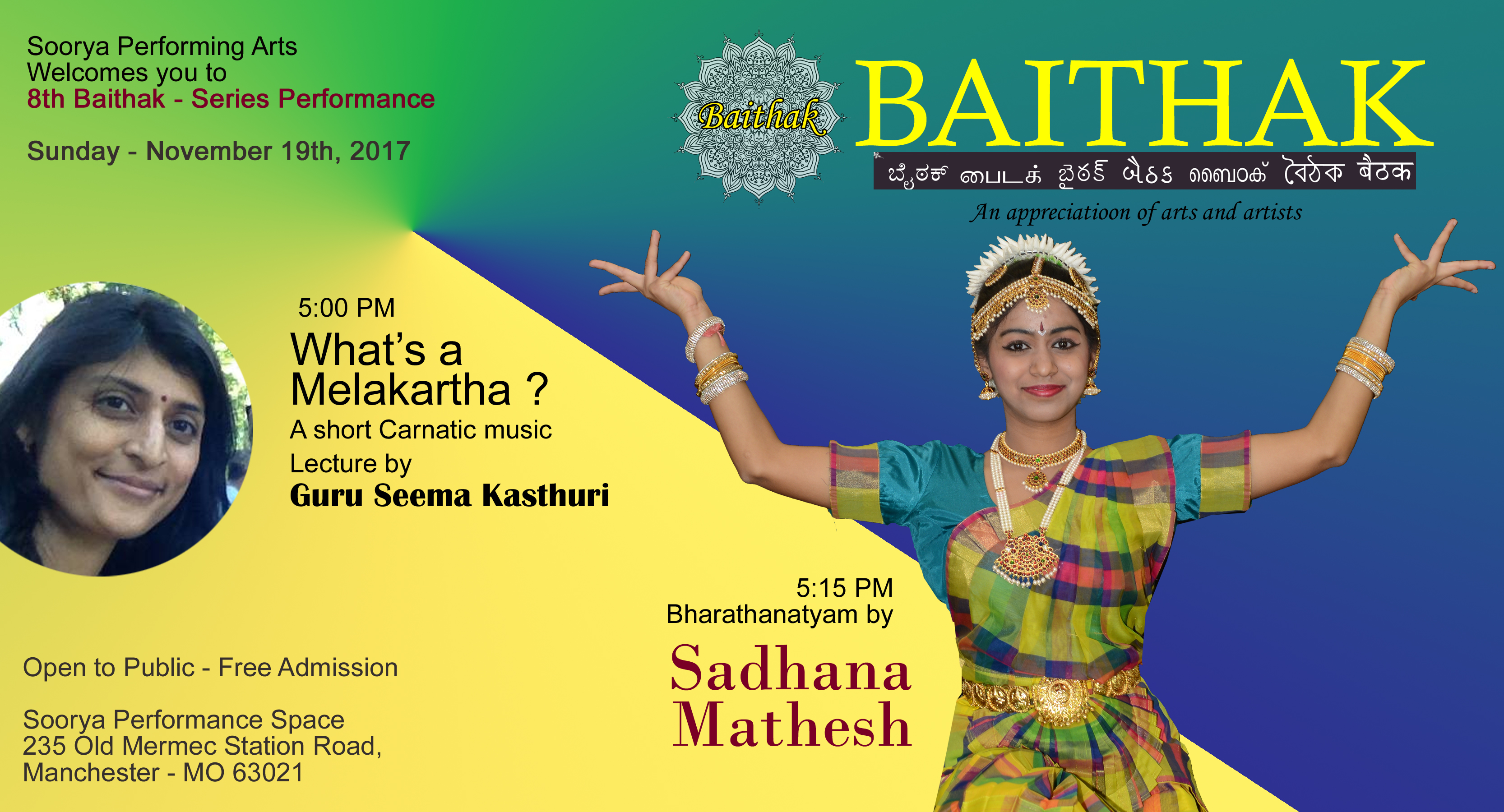 Baithak will be held in Soorya Performance Space in  - 236 Old meramec station road, Manchester, MO 63021
Baithak series 8
What's Melakartha - by Guru Seema Kasthuri
Guru Seema Kasthuri will introduce the concept of 72 parent melodies or raagas of South Asian Carnatic music. She will briefly explain the idea, creation and appreciation of these 72 melakarta or parent raga in a brief lecture demo.
Here is the website of Seema ji for more details - http://seemakasthuri.com
Bharathanatyam by Sadhana Mathesh -  11/18/2017
Sadhana Mathesh is an avid learner of Indian classical dances, she devotes lots of her time and energy in search of true art form. She is inspired by the teachings of great saints of India including Shankaracharya to Saibaba. She is a sophomore in Lafayette High school in Wildwood, MO, actively involved with Indian community in Ayyappa bhajan group and also Sai center for higher learning. She teaches young children herself apart from her own learning. She is a long distance cross country runner. She has performed in many major projects of Soorya Performing Arts including - Dashavatara, Rainbow 2, Anubhava Mantapa and Subhadra Parinaya. She has performed in Chicago, Carbondale, Chennai and St. Louis.
Baithak series 7
Meduri Srinivas  -  11/07/2017
Sri Meduri Srinivas, son of the great Veena Vidwan late Sri Meduri Narasimha Rao, vainika siromani late Smt. Satya Gnana Prasunamba, is an accomplished 'A' grade veena artist from Hyderabad, India. To name just a few, he performed concerts before many dignitaries, including the Honorable Governor and Chief Minister of  Andhra Pradesh, Prime Minister of Singapore, Sri. Srinival also performed several times for Nada Neerajanam conducted by Tirumala Tirupati Devasthanam (TTD)  and Doordarshan (broadcast nationally).  He will be presented a short concert to introduce to students of Soorya Dance and Music Community.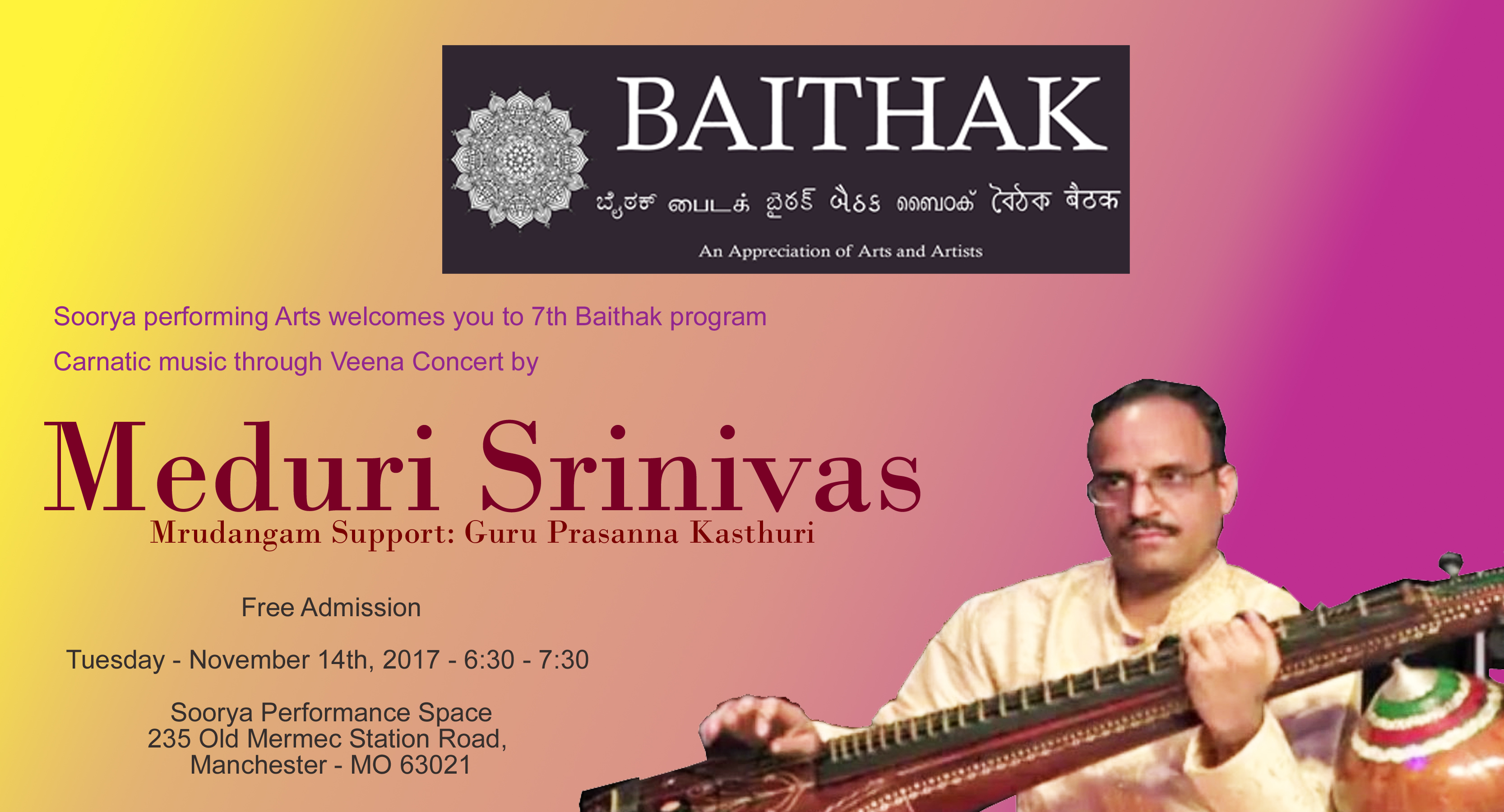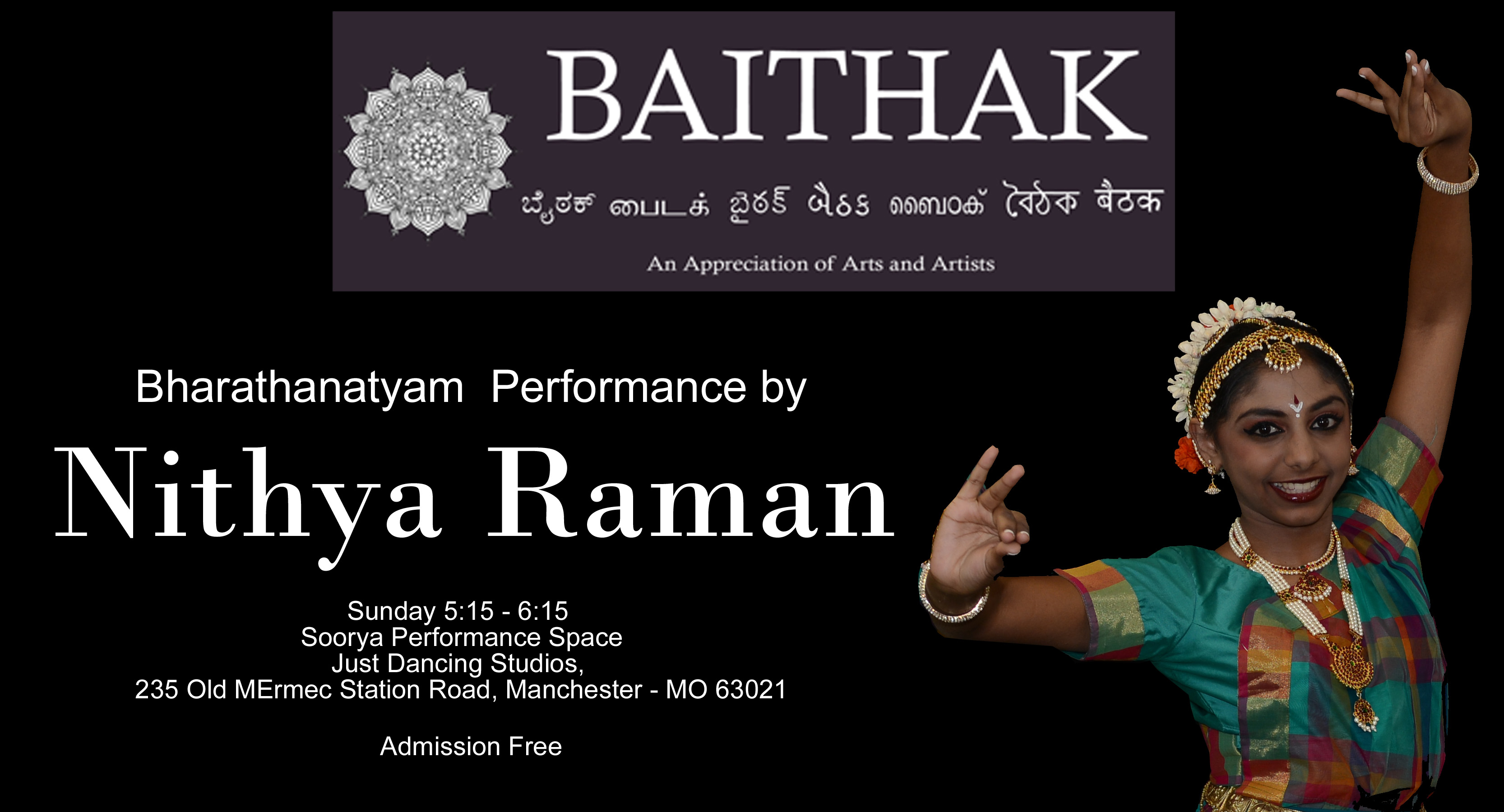 Baithak series 6
Nithya Raman  - 11/05/2017
Nithya Raman is a Bharathanatyam student of Soorya Dance Company. She has learnt Bharathanatyam by different Gurus. AT present she continues under Guru Prasanna Kasthuri. She is keen on exploring the rhythm and abhinaya aspects through this performance. She is a sophomore in Marquestte High School, she was inspired to perform dances from mother Gayathri Raman, who is a dancer. 
Baithak series 5
Introduction to Natya Shastra  - 10/29/2017
Natya Shastra is the foremost work in performing arts such as music, dance and theater written by sage Bharatha in 2nd century. It consists of 6000 shlokas (Sanskrit verses). Guru Prasanna Kasthuri will explain some of the salient feature of this amazing job.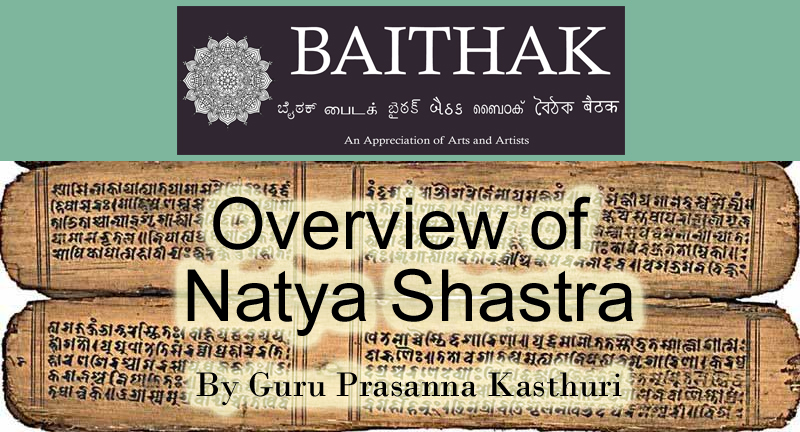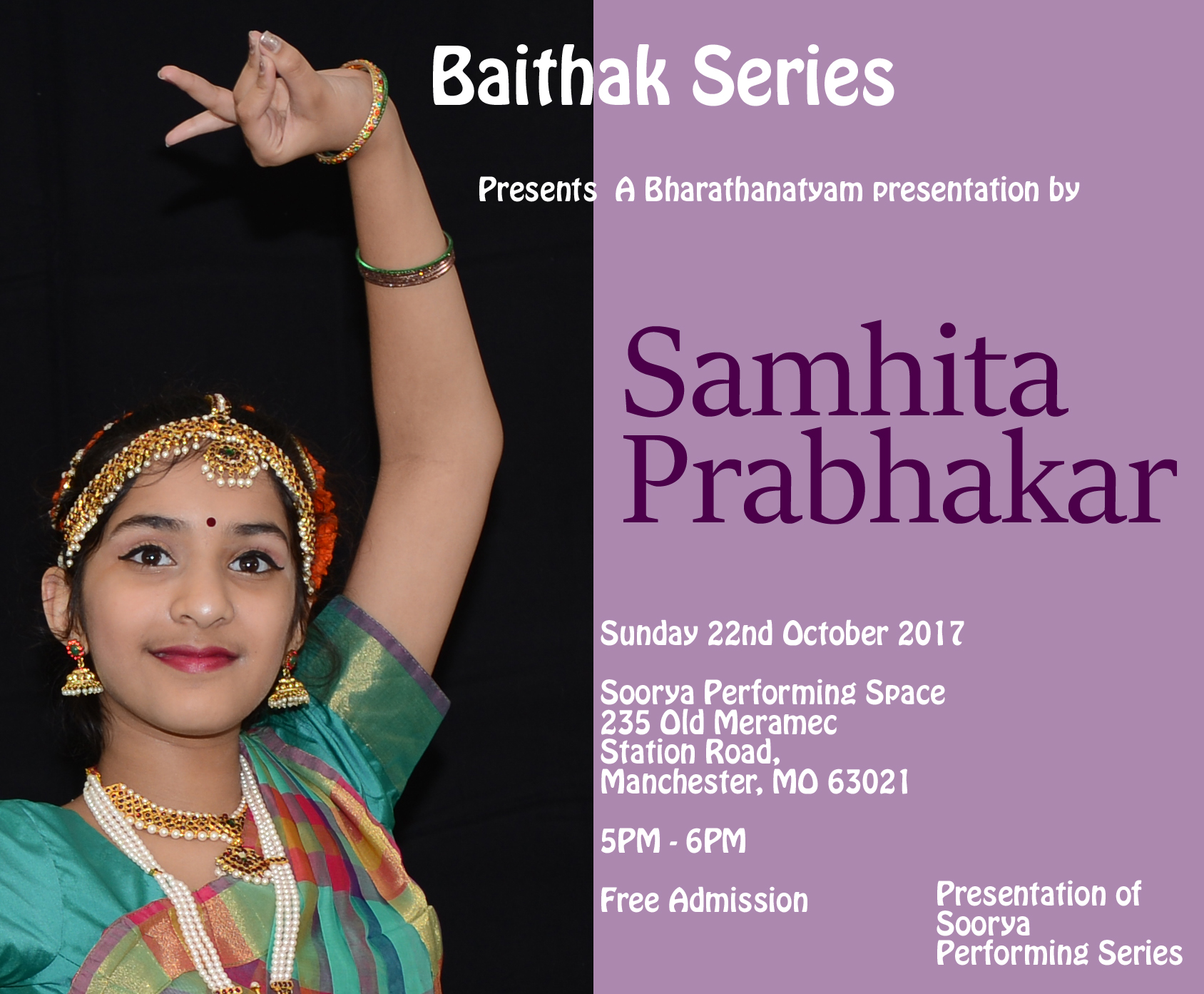 Baithak series 4
Samhita Prabhakar - Baithak Series - 4 - 10/22/2017
Samhitha Prabhakar, an Eighth grader at Rockwood's Crestview Middle. She has been learning Indian classical dance Bharatanatyam under the tutelage of Guru Prasanna Kasthuri. She was inducted to Indian dance at an young age of 6 years and has been passionate about this ever since. She has been learning Indian Classical music from Guru Seema Kasthuri alongside the Dance. She performs regularly in Sangama Kannada Sangha. She has actively participated in productions such as Dashavatara, Anubhava Mantapa and Nireeksha. Occasionally, she enjoys dancing to the tunes of Bollywood songs. Her admiration for Indian art & culture which she imbibed from her Gurus has only been growing.
Of late, Samhita is passionate about Taekwondo and aims to achieve a black belt.
Baithak series 3
Sansita Palakollu - Baithak series 3 - 10/15/2017
Sansita Palakollu is a Bharathanatyam student of Guru Prasanna Kasthuri. She is learning in Soorya dance company since 2009. She has participated in in productions like Dasha Avataaram, Anubhava Mantapa and Subhadra Parinaya. She is an 8th grade student, sje is an active member of Hindu Youth Group and also Bhagavad geetha classes She learns carnatic music from Guru Vidya Anand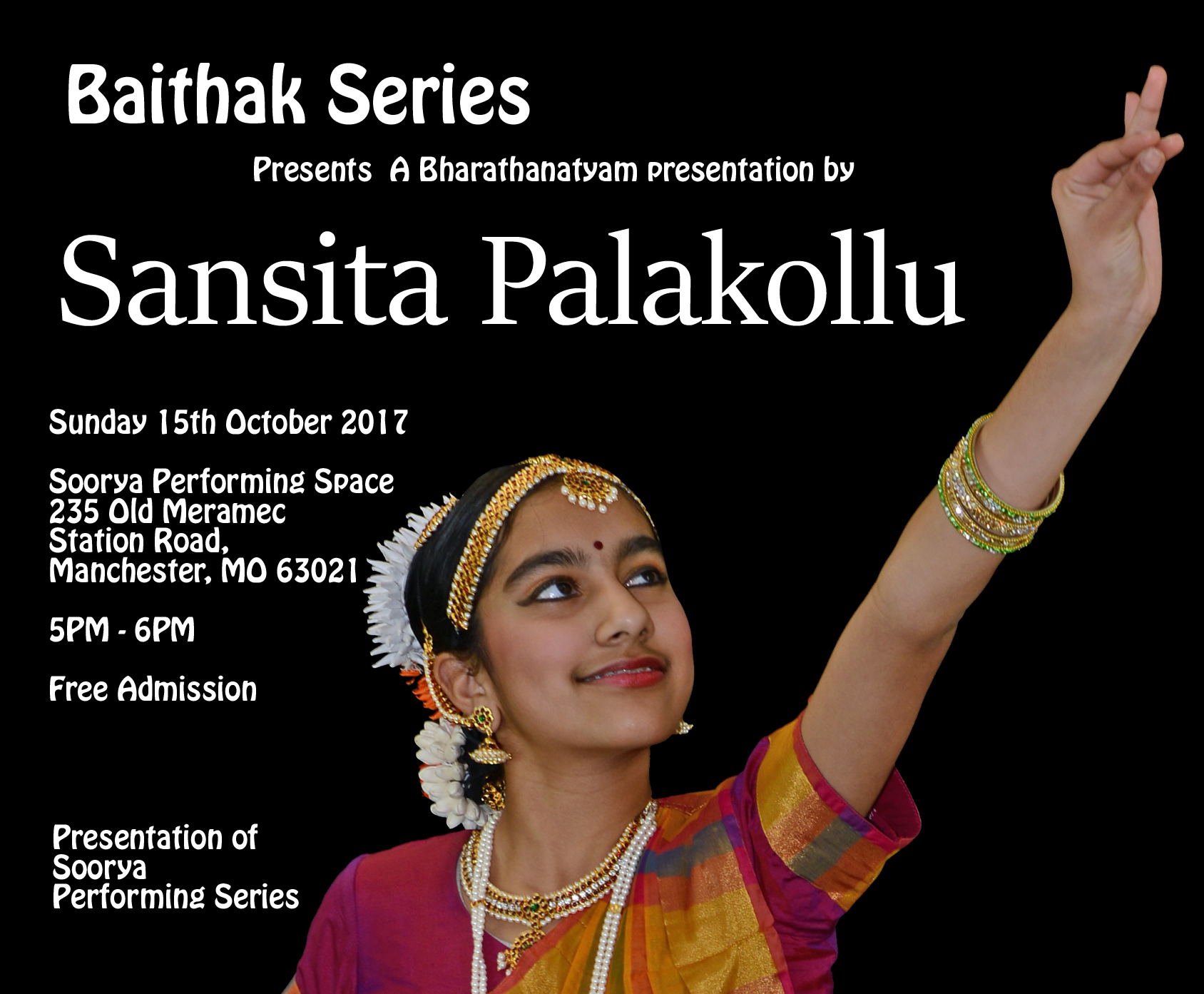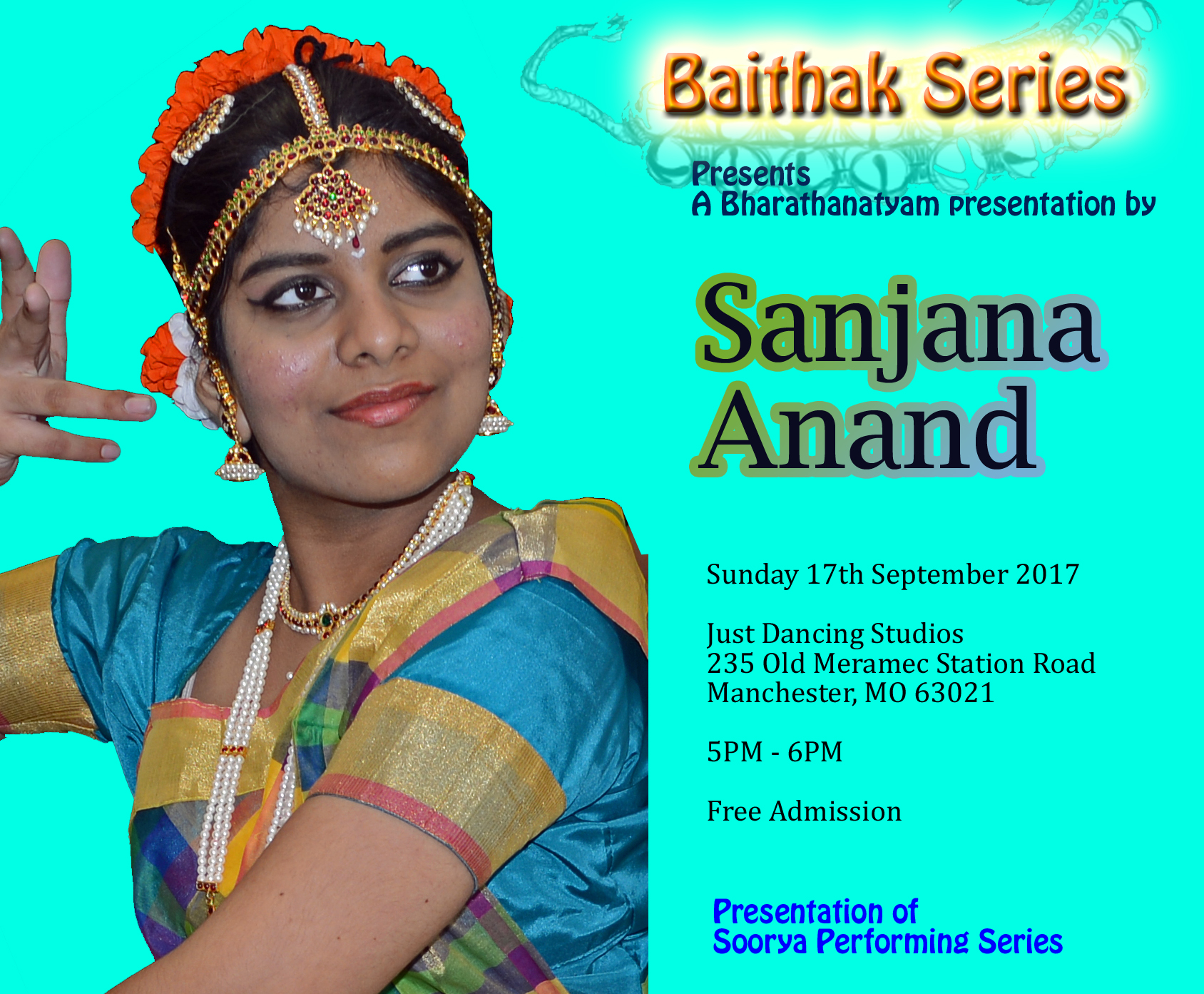 Baithak series 2
Sanjana Anand -Baithak series 2 - 9/17/2017
Sanjana Ananda is a Bharathanatyam student of Guru Prasanna Kasthuri. She is learning in Soorya dance company since 2010. She has participated in in productions like Dasha Avataaram, Anubhava Mantapa and Subhadra Parinaya. She is an 8th grade student, who volunteers in many social organizations such as - Missouri river cleaning projects, Soup Kitchen for homeless and many more. SHe learns carnatic music from Guru Mala Gopinath
Baithak Series 1
Roshni Rameshkumar Rajan - Baithak Series 1 - 9/10/2017
Roshni is a 8th grade student, who  loves to dance all the time. She is very talented and enthusiastic child, who eagerly accepted the challenge to perform 45 minutes dancing in this first Baithak Series. She is learning Bharathanatyam since 2010 with Guru Prasanna Kasthuri. Apart from dancing, she is interested in robotics, tamil school and also she learns carnatic music under Guru Seema Kasthuri.