Thank you everyone for making Kala Nava ratri and Hurricane Fundraising event a great Success. We raised $3250 on Sunday, October 8th , 2017 . We gave all the funds generated to Red Cross on Friday, October 13th 2017 - by visiting - the Red Cross chapter of St. Louis, MO.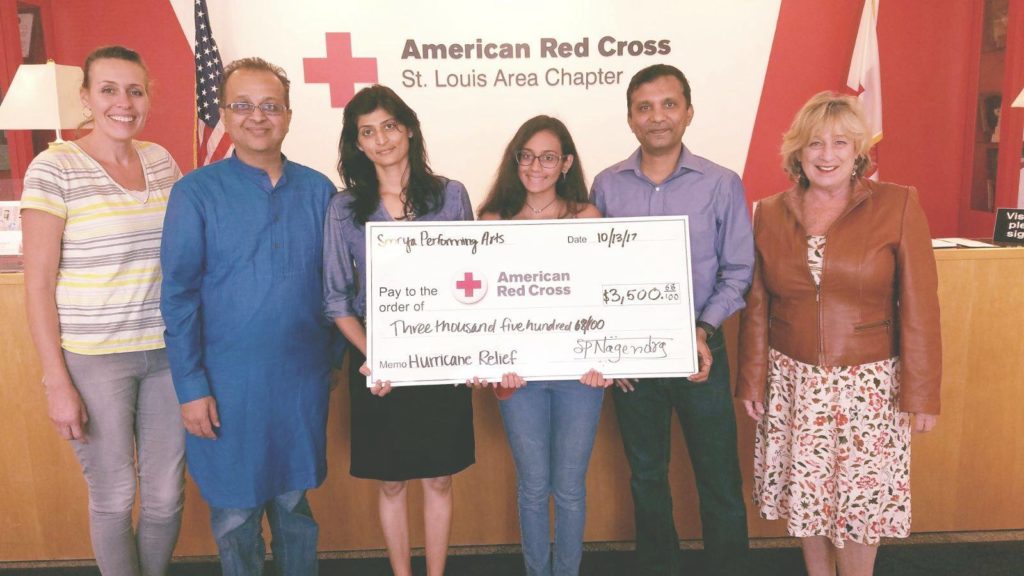 Joining Hands
Its terrible to lose a home, life for a natural disaster. 
As human beings, only thing we can do it is face it, endure it.  As human beings, we help each other. That's what we are trying to accomplish here.  Be with someone who is in pain. Our hands are tied due to our busy lives - which makes us not not to be with those human beings, who have gone through pain. Being in the same country, it feels more painful to see your co-citizens going through such a hardship. Even if we are not their physically, we are connected with them emotionally. We would like to help those organizations, which are dedicating themselves to such causes. Please join hands with us to strengthen such endeavors. 
Guru Sujatha Vinjamuri & Kuchipudi performs
Guru Hema Sharma and Eshwari performs
Guru Vidya Anand, St. Louis, MO; Guru Nithya, St. Louis, MO present individual performances
Samanvita Kasthuri, St. Louis, MO; Varsha Vijaya, Chicago, IL; Priya Kanna, St. Louis, MO; Priya Patel, Fairview Heights, IL; Rhythmic Beats (Direction Sahitya Vinjamuri) Songs by Anvita Makkina, Meghana, Hriday; Sanjay, Neha Checka, Akshara & Pallavi
Bollywood Songs by Vinod Shenoy, Falgun Dave, Anil Cashikar, Neeta Shahpeti, Manok Khatodkar, Thiruvathira by St. Louis Malayalee Association,
American Parai Group Performs
Thanks to Mayuri Restaurant and Bombay Food Junkies - Giving part of sales proceeds to this cause; Decorations provided by Big Bow Events
Thanks to Sangama Kannada Sangha, Tamil Sangam of Missouri, Telugu Association of St. Louis, Omkaram, St. Louis Malayalee Association, India Association.
Thanks for your opinion and feedback
These are feedbacks from Facebook pages
Good effort for a great cause. We are thankful to Soorya performing arts school. - Revati Nagarajan
 It was a great event for a great cause! Proud to be a part of it and was happy to see the huge audience. Thanks Guru Prasannaji! - Neet Shahapeti
so lovely ! - Kripa Lakshmi Iyer
Great Effort Prasanna Kasthuri Sir - Ryan Nathan 
A merciful wonderful venture by Guruprasannaji! - Radhakrishnan Kuttikode
Just beautiful. Thank you for allowing our team the pleasure of our donation to this most worthy gause! Keep up the good work! - Big Bow Works
That is wonderful news - Beth Muffley
God bless you - Lisa Harper 
Great idea -  Patricia McKenna
It was a pretty successful event , Thanks Prasanna ji for putting up all the hard work and providing stage for all the artists. - Hitesh Parikh
Really great effort together by the whole team, we had a really good experience - Soumya
Wonderful - Lisa Magness
From Whatsup messages - 
Great job Soorya Performing Arts - Saabu - President, St. Louis Malayalee association
Very nice !! Great job Prasanna Ji and board of Soorya PErforming Arts, I was in the event yesterday. We liked very much the way you organized. This is what I'm expecting from St. Louis Indian Association. Again very well done - Vijay Manivel , President of Tamil Sangam of Missouri
Excellent Effort - Ranjeet Singh
Great job Prasanna gaaru and Soorya Performing arts - Jitender Alluri, President of Telugu Association of St. Louis 
Great job Prasanna ji, congratulations - Raghava Konduru
Good job everybody ! Its really nice to see all communities getting together for such a good cause. Keep it going, - Vibhu Grover
Namaste, Prasannaji , the event was very nice - we enjoyed the performance - Neelima Bhavsar
MEET THE TEAM
It takes lots of hours to bring people for a good cause. These are few of the people dedicated their time for this noble task.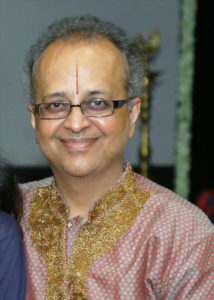 Prasanna Kasthuri
Volunteer Artist
Guru Prasanna Kasthuri is leading this effort to bring artists and art lovers in a concert to raise funds for Hurricane Victims. He had worked in the past for Oklahoma tornado disaster, TASK - children with disabilities in St. Louis and for ASHA - for children education in New jersey. He believes, Arts can only sustain on humanity. This measn ArTS must support Humanity in need.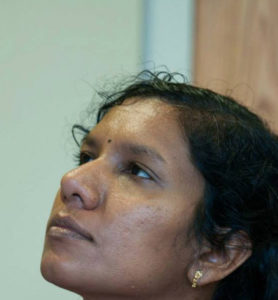 Jayashree Anand
Volunteer - Event Coordinator
Jayashree Anand is the event coordinator for the "Joining Hands" - events. She is an enthusiastic person, helping out in many organizations. She volunteers in all the events of Soorya PErforming ARts, Tamil Sangam, Mala's Music School and Missouri River Clean up works.